MiniBlaster
... is a game for Nokia Series 60 phones (Series 60 1st, 2nd and 3rd edition, e.g. 7650, N-Gage, 6670, 6630, E70 etc.), inspired by the old classics Bomberman and DynaBlaster.
The game is playable in single player mode and in multiplayer mode for two players over bluetooth.
MiniBlaster is localized into English, Swedish and Finnish.
News
May 26, 2007 - Signed the package for 3rd edition with a new self-signed certificate with longer validity time. The old package expires in mid June 2007.
November 8, 2006 - Released version 1.01, which supports Series 60 3rd edition and fixes some bluetooth issues.
Download
The game is distributed as freeware. Download version 1.01 here:
Tips
If the game runs too slowly, try disabling the music or maybe sound altogethger. This can be needed especially in client mode on older phones.
The package for Series 60 3rd edition is self-signed. Many such devices are originally set not to allow installation of such packages. If unsure, open the application manager on the phone, select settings in the menu, set software installation to "all" and online certificate check to off.
Screenshots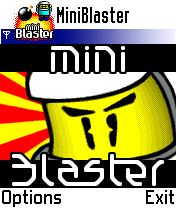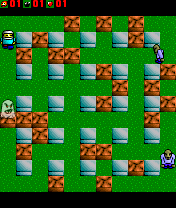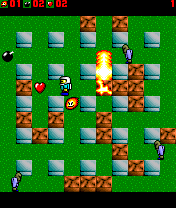 Credits
Code: Martin Storsjö (

)
Graphics, music, synth code: Peter Halin (

)
Bluetooth code: Lasse Saarinen (

)
Archive
The original version can also be downloaded: